Announced Annual Awards:

Large Unit History Award Winner: USCG Training Center, Yorktown, VA.
Small Unit History Award Winner: Station Merrimack River, Newburyport, MA?.
Best Book on Coast Guard History: Thaddeus D. Novak, edited by P. J. Capelotti, Life and Death on the Greenland Patrol
Best Book on Lighthouses/Aids to Navigation: Carol O'Neil, Images of America: Point Sur
Heritage Awards:

CDR Maurice Gibbs, USN, Ret., for his work for the United States Lifesaving Heritage Association, the Nantucket Life-Saving Museum, and the Nantucket Historical Association.
CWO4 Ken Black, USCG, Ret., for his decades of devotion to saving and displaying lighthouse artifacts. The Maine Lighthouse Museum is a direct result of his work.

Provided a plaque and 20,000 brochures for the new USCGC Mackinaw Museum upon the vessel's decommissioning.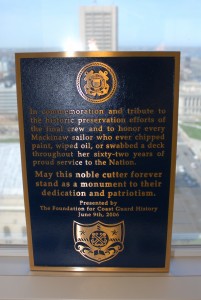 Provided detailed critique of draft of USCGA Tour Guide
Provided funding for filming CDR Stewart Graham, USCG (Ret.) and Sergi Sikorski discussing early development of helicopters. CDR Graham was Helicopter pilot #2.
Provided funding for summer intern in CG Historian's Office.
Provided a brick for the Coast Guard Memorial Plaza in Baltimore, MD.? Filmed and edited the life story of YNCM Phil F. Smith, the second MCPO-CG.
Provided consulting services and participated in dedication of "Coast Guard Walk of History" at Grand Haven, MI.
Provided stipend to Dr. Dennis Noble to assist in research on Captain Cantwell.
Provided funding to LT Michael Bennett for research on CG role with Office of Strategic Services (OSS) in WW II.
Continued efforts to improve public access to CG Museum/NW, with at least some success in signage to inform the public.
With the assistance of Admiral Thad Allen, provided a copy of The Coast Guard to the President.
Added CWO Sandy Schwaab, USCG (Ret.) to the Board of Regents. He is also the President of the Coast Guard Tug Association.
Published three editions of The Cutter, FCGH's magazine.