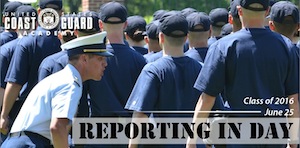 NEW LONDON — New cadets are reporting to the Coast Guard Academy today for the seven-week training program known as Swab Summer.
The academy in New London says the cadets from around the country make up the most diverse class in its history. Thirty-five percent of those offered appointments are from minority groups and 37 percent are women.
The academy says about 250 cadets are expected today for Reporting-In Day.
Seventeen are Connecticut residents. On their first day cadets receive haircuts, go through drill practice and administration in-processing.
Swab Summer is a notoriously difficult boot-camp regimen of academic and physical training intended to transform them from everyday teens into potential Coast Guard officers.
Students graduate with a bachelor of science degree and an obligation to serve five years in the Coast Guard.